At the hospital

Hey big sister, want to hold your little brother?
(she never wants to stop!)


Mom's first time holding Joseph in her arms instead of in her belly.


I'M NOT HAPPY RIGHT NOW!
I used to be in this warm place but mom evicted me!


Mom looks great after giving birth!


I'm one eyed Joe. Don't make me angry or I'll stop smiling.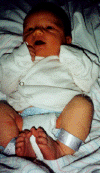 Thanks for not using the flash dad!

See going home for more pictures

Created by DAD